There are tons of free options for graphic design on the web. I love using everything from Hipster Logo Generator toCanva to Pixlr. But when it comes to website or blog logo design – or really anything related to graphic design that makes your blog stand out – you'll need expertise.
And professional graphic design expertise isn't cheap. So how can you make your website or blog really stand out – give it that extra 'pop' that it needs without turning hiring a professional graphic designer directly?
One option is crowd-sourced design. It's a way to help make good graphic design accessible to all budgets, while giving freelance graphic designers a vibrant marketplace.
I've personally used 99designs for a couple of my website projects – and both have been for custom blog logo design. Here's my 99designs review with how it works, along with pros and cons…
*Editor's Note – this post was originally published in April 2013. It's been updated and re-published for November 2015.
Disclosure – I receive referral fees from any companies mentioned. All data and opinion is based on my experience as a paying customer.
How 99designs Works
99designs is primarily based around design contests.
Design contests are where you submit an request for a design, and dozens to thousands of designers submit ideas for your request, and you get to choose. The bigger your budget – the more your request is sought after (and the more choices you get).
Design contests are 99designs' bread and butter. You can run a contest for anything from a blog logo design to a book cover design to a custom WordPress theme design. You set the budget; you get ideas over the next couple days, and then you choose. Simple enough, and it works really well.
Some of my clients have been very happy with the design direction they got from 99designs.
However, even those designs might be out of a lot of bloggers and website owners' budgets – which is totally fine. In fact, I would say that it is wise when you are first starting out. You want to start out right…but not broke.
Which is why I want to focus on 99designs' other (and less publicized) offering – Ready-made Logos. To me it's a gem of an idea for both website owners and graphic designers.
It's literally a store of pre-made logos for every industry imaginable. Each logo can be customized by color and text to fit your company/blog/website. And almost all of them sell for $99 – which is a pretty good deal considering the instant credibility you get from having a pixel perfect logo on your website.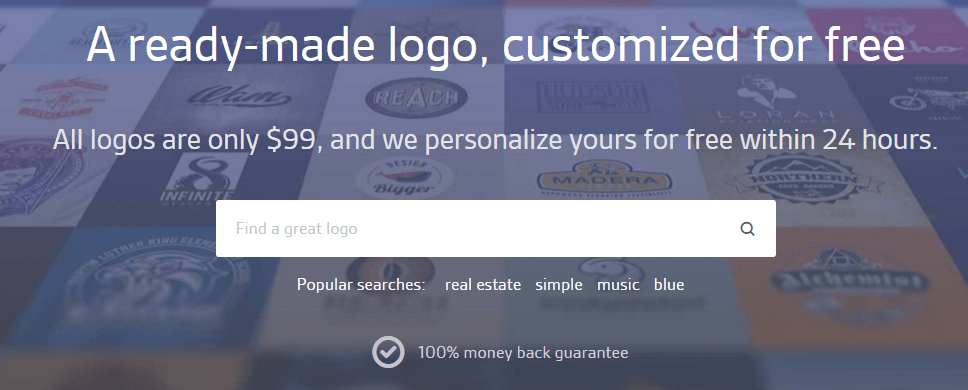 As a bonus – 99designs also allows you to purchase the copyright to the image for an additional fee if you want to make it exclusively your logo.
The process of buying a logo is very straightforward. You browse the store, pick your logo out. Purchase the logo. The money goes into a 99designs escrow while the designer makes edits to the logo (usually limited to text, color, and small tweaks).
After the edits are in, you can view and approve the design. Then, 99designs gives you a handoff link where you can go and download the files of your new website or blog logo design.
You get a .jpg for web use and a .eps to use if you want to do any prints or rescale the image in anyway. The link remains in your account as long as you have an account at 99designs. If you lose it – you can always recover your logo.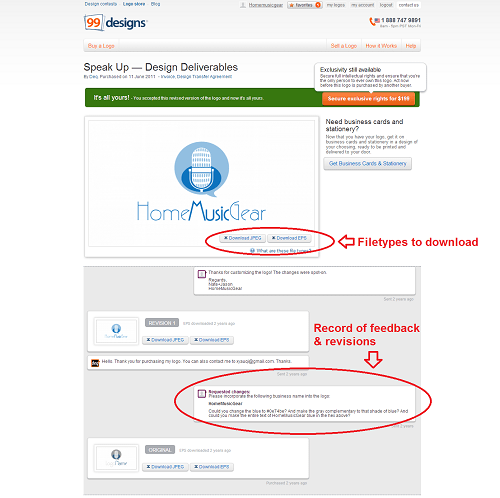 So that's how 99designs works. It's good – but by no means perfect. Let's dive into what I consider to be the 4 pros and 4 cons of using 99designs (especially for website or blog logo design).
Pros of 99designs
99designs isn't for everyone, but it does do a lot of things right. Here's why I liked about them from the projects I ran with them.
Affordable
Graphic design usually represents the lion-share of any web design budget. While many software tools (such asWordPress) can make building a website cheaper, and premium WordPress themes (such as from ThemeForest orWooThemes) makes having a website design affordable – graphic design still isn't something to can really teach a computer to do.
Everything in the 99designs Logo Store is$99 and you can run a contest for as little as $250. Graphic design can't get much more affordable than that.
So while 99designs might get criticized by some – the affordability definitely puts professionally designed logos within reach of a lot more people. Affordability is the major pro to using 99designs for website or blog logo design.
Choice
Whether you run a contest for your own custom logo, orbrowse the Logo Store for one to make your own – choice is one thing that 99designs is not short of at all.
The times when I was looking for a blog logo design, I had to eventually just put a stop to my search and purchase one because I could have browsed forever.
So if you're the type who wants a custom logo, but needs the affordability of a crowd-sourced design – 99designs is the way to go.
Turnaround Time
Once you choose your logo from the logo store, you'll still want to customize it with your colors and text. For my logos, the turnaround was less than 24 hours. You purchase and submit your changes, and most every designer is able to implement and upload your revised product within 24 hours.
Very little wait for a customized product.
Trustworthy + Access
The beauty of having 99designs run the marketplace is that they are able to guarantee both sides a smooth experience. They hold the money is escrow until you have accepted the final product. In addition, they hold your purchases in your account, so that if you ever lose the original – you can just log back in to get another for free.
This situation actually happened to me a few weeks ago when I was changing out the theme to one of my blogs, and realized that my logo was on an old hard drive that had failed. Thankfully (even though it was 2 years after my purchase), 99designs still had it in my account for quick download.
Cons of 99designs
Every company has room for improvement, and 99designsis no exception. Here's what I would love to change for an even better experience.
Choice
Yes – choice is a pro of 99designs, but I found that it can also be a con. On the logo store, there's so much to choose from that it can be hard to make the final decision. And yes, that statement sounds like the classic "my weakness is actually my strength" deal.
But seriously, since you are making a choice of what your logo is and how it defines you, it can be very bewildering to make that decision in a silo with no real guidance. 99designs provides some tags to sift and sort the logos, but nothing in the way of questions to ask about your logo selection.
It's all preference. So while choice can be great – sometimes it can feel not so fun, which actually brings me to the next con…
No Relationship
Part of the expense and expertise of hiring a single graphic designer is that you get to establish a client/agency relationship where they listen to more than a brief or a list of preferences, and actually try to tell the story of your brand with good design.
That relationship, and back and forth can be hard enough to recreate when running a design contest, but it obviously impossible to have when choosing a website or blog logo design from the Logo Store.
Now, obviously this comparison is very much comparing apples and oranges, but I think it's a con that should be taken very seriously. Are you trying to go affordable because you must, because you want to, or because you actually think you'll get the best design?
There is no right answer here, but be cognizant of exactly what 99designs is offering. For a lot of people, it's exactly what they need. It brings design within budget. For others, not so much. It's a purposeful con with 99designs, but a con nonetheless.
Not Local
To start – this is not a con to me, but it is for a lot of people, so I'll include it. 99designs is operated out of Australia. It has designers from all over the world. I got one of my designs from a designer in Bulgaria, and another from China. I think that that is really cool.
But others aren't so cool with it – they'd rather see the money flow into their local economy. Now, I'd argue that you being able to launch a professional looking business within budget helps your local economy even more, but I totally understand the sentiment. If this is a con for you – cool, if it's not, then awesome let's move to a real con of using 99designs…
Lack of Filetypes
When you purchase your logo from the Logo Store – you get 2 files types – A JPEG and an EPS. The jpeg is for immediate web use. The .eps is for scalable use later (if you want to make a huge banner or something).
Now, in theory, the EPS file makes all things possible by plugging it into Photoshop, except for that one of the reasons I used 99designs is that I don't use Photoshop. I'd love to have my logo ready to download in a high-quality .png or .svg that's ready for web-use.
But alas, it's not. The jpeg is good – but I'd love the .png right now.
Conclusion
If you are looking to make your website or blog really pop – you need a little graphic design, especially for you website or blog logo design. Having a custom design is going to be expensive. 99designs puts quality graphic design within reach. Despite a couple drawbacks, I'm a fan – and recommend them.
You should checkout their Logo Store here…
Good luck!
Amazing choice, and pricing. Fast and affordable. Limited file-type choice, though. And no branding expertise of a professional graphic design. For what it is – it's the best out there.

You Might Also Like