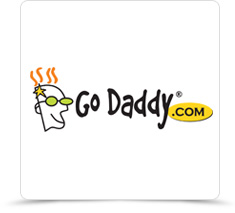 Most of us know GoDaddy as the place to buy your domains, then once you get the domains, you head off to your preferred hosting company. But the thing is, you don't need to go elsewhere. You actually have the option to have them host your site.But how do they fare? Are they up to par with the seasoned veterans? What are the features and more importantly, how much does it cost?We are here to provide you some quick answers to that so that you can decide for yourself if you would like to give GoDaddy a try.
The Good Stuff
GoDaddy has a wide range of offerings from the simple shared hosting packages to dedicated, virtual and cloud hosting.
Overall, what are the good things that you should expect from them?
Fast and easy to contact support team. This is probably their best asset – when something comes up, you know that they will respond to you ASAP.
They are trusted by over 5 million people with their hosting capabilities.
You need not go elsewhere after you buy your domain.
Centralized billing for hosting and your domain renewal. This means less chances of you forgetting to pay for anything!
Easy to use interfaces and easy to understand site.
When we get to the package details, you will also see the good things within each package.
The Bad Stuff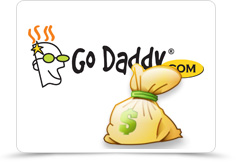 It is difficult to talk about bad things about GoDaddy because mostly, we believe they are DOING A PRETTY DECENT JOB at it. Probably the only negative thing we can say is that THEY ARE EXPENSIVE. For example, their cheapest package is priced at $9.99 a month, more than double than what other hosting companies charge for their shared hosting services.
The Hosting Package
For the shared hosting package, for the $9.99 a month price tag, you get:
Support for WordPress, Joomla, Drupal
Support for unlimited sites
500 email addresses and 25 MySQL databases
Ad credits for Google, Facebook and Bing
What is quite unique to GoDaddy is that they have a cheaper package at $5.99 per month for a suite of web site builders. What does this include?
Widgets for Facebook and Twitter integration
Access to thousands of images and templates to use for your site
A design wizard to guide you through the web site creation process
Widgets for eBay, Yelp and Open Table
Hosting for your domain and email account support
The Features and Specifications
It is difficult to talk about features and specs in general, without having to focus on one type of hosting. So for GoDaddy, we will concentrate on the shared hosting specs.
Support for greeting cards and email auto responders
Shorter contract of 3 months for select packages
Fraud and virus protection programs
The Ease Of Use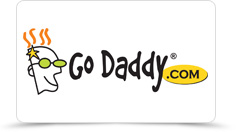 With no doubt, GoDaddy is super EASY TO USE. Upon buying your domain, you can even have your site and hosting in under 10 minutes. No joke! So if you are a newbie wanting to have your own blog, for example, GoDaddy can help you make that happen in minutes.
The Customer Support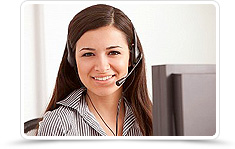 We have raved about their customer support and this comes from actual experience. They are fast and easy to reach. They give you knowledgeable answers and they get back to you for follow ups in case you don't reply.
The Verdict
We believe they are ONE OF THE BEST out there and if you can afford their packages, then go for it.