Signing up with iPage is easy; you can do it yourself without any aid from your web master. You can use this detailed step-by-step guide to get your hosting account from iPage:

Visit the iPage official site or use this link http://www.ipage.com. The site's main page will display the hosting plans available to you and the features offered by them.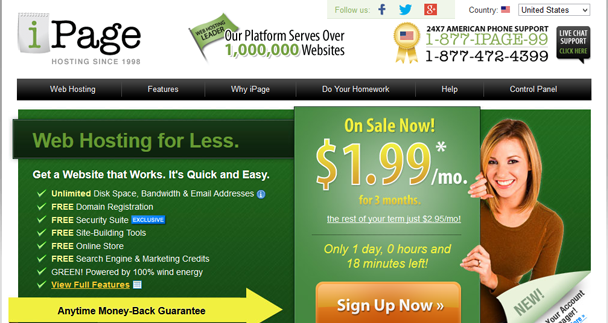 Now click on the big "Sign Up Now" button (it's a big icon so you wouldn't miss it). On top of the button you can see that iPage is on sale and you can sign up for only $1.99 per month. If you used an iPage coupon code or discount link, you will also see the difference in the price and the amount you will save by using the coupon code.


On the next page, you will have to select a domain name or simply domain. Domains are used to identify your website. It is the web address typed in by users on their web browsers to access your web pages. An example of a domain is www.ipage.com. You can get your own domain from iPage for free. In this page you have the option to either register a new domain or to use an existing domain. Note that iPage also offers free domain transfer for your domains registered in other domain registrars. After you select your desired domain, just click the "continue" button.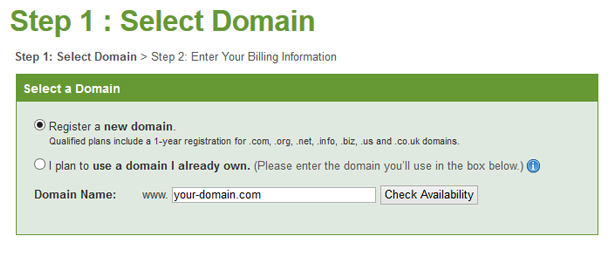 Next, you will have to enter your billing information consisting of your contact information and payment information. Note that iPage allows you to pay via PayPal or credit card. On this screen, you can also select the hosting plan you want to purchase and some additional features you want to include in your cart. Once done, just click the "Checkout" button.


A confirmation will be displayed on the next screen. Save a copy of this message for future use. You will later receive an email stating your purchase information and confirming your registration with iPage.

You Might Also Like
Add A Comment
You must be logged in to post a comment.